18 Mar

HOW TO WORK FROM HOME WITHOUT LOSING YOUR MIND

As the new coronavirus continues its romp around the globe, the Centers for Disease Control and Prevention has recommended "social distancing" as one way to combat the spread of disease. So far in the United States, that's meant the canceling of conferences like Facebook's F8, the MET Gala has also been postponed.

Companies like Twitter and Square—which share Jack Dorsey as CEO—have now taken the next logical step of asking employees to work from home whenever possible, and many more are following their lead.

As a company that has had this practice since inception, we are here to tell you: It's not easy. But setting some boundaries will go a long way toward keeping you sane.

So! If your employer has asked you to stay home, here are some strategies for keeping it together. Seriously, we have been doing it since "slack" was mostly a verb.

Get Dressed

If you don't get up, take a shower, brush your teeth, get dressed—whatever your morning routine entails when you actually do go into the office—you're breaking the cardinal rule of working from home: Set boundaries.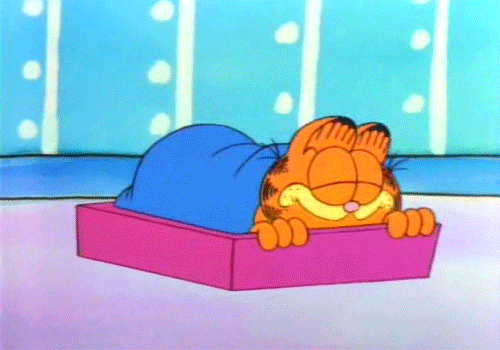 If you don't get ready for the day, your day never really starts. Instead of working from home, you're just at home, with the occasional work check-in.  You need to treat it like any other day at the office, minus the office part. Besides, it's good to be prepared if someone springs a surprise Zoom invite on you.
Have a designated work space
The whole "you get to work from bed" thing is a fun idea, in theory, but it doesn't work. Your bed is not a workspace. If you have space for a desk in your home, get one. Make it your work space.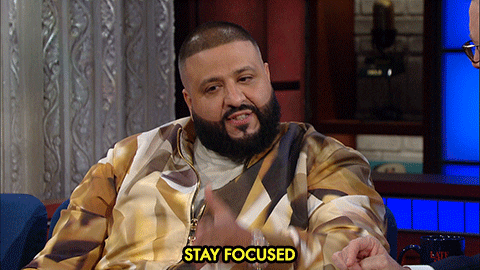 With the Coronavirus and so many people facing potential periods of working from home, it will not be uncommon for more than one person per household having to be in that situation. In that case, if there aren't enough desks around, maybe consider turning your dining table into a communal working area. The important thing is to keep that separation between work/home going strong.
Make relevant people aware of your work schedule
If you've been told to work from home but other people in your life don't, there's this idea that, because you're home, you have time for "non-work" things, like supermarket runs and that kind of thing. Whether you live with a partner or have flatmates, it is on you to communicate to them the hours when you will be working so they know to leave you to it.
That said, there is no point denying yourself the convenience of getting stuff done when you have the chance. Maybe you used to go for a walk around the block when you worked in the office. That break can now easily be spent hanging the washing or doing some dishes. I mean… why not? These things need doing, they get you moving, get your eyes away from the screen and are a good mental break from work.
Keep in touch with people
Depending on your living situation, you can easily go days without seeing other people in the flesh. Make sure you keep in touch, even if only by phone or online. Schedule calls with friends like you would schedule an after-work drink or a lunch date. These will help add structure to your day and ensure that, just because you essentially live in your workplace, you're not always in work-mode.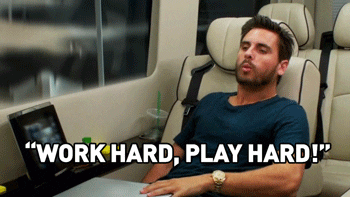 No TV
Sorry. Unless you work in an office that already has CNN or CNBC or whatever on all day in the corner, no television. . And that one little break to catch up on Skinny Girl in Transit will invariably turn into a binge. This applies to videogames, books—anything but music, really. Basically, if you wouldn't do it at the office, don't do it at home when you're working. Boundaries!
Stock up on snacks
Look, we can't deny it: there are some advantages to this working from home thing. The main one is how much of your life you get back by not having to commute or spend hours in traffic. But the contents of your fridge are a close second.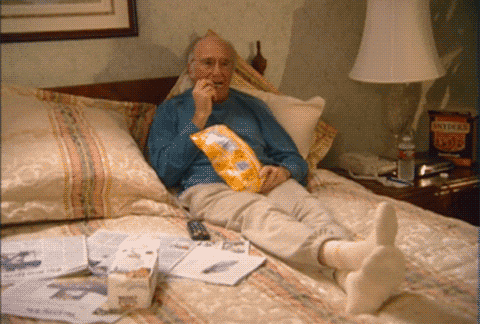 This is the bit where to tell you to should stick to healthy snacks so yeah – definitely do that.
Become a great communicator
If you work as part of a wider team, you've got to become really good at keeping in touch and really good at responding to messages as quickly as you can.
And finally…
Get up and move
Set yourself alarms if you need to but make sure you regularly get up and move your body. A smart watch can remind you to "move" at regular intervals but you can also download apps for this or even just use the alarm clock on your phone.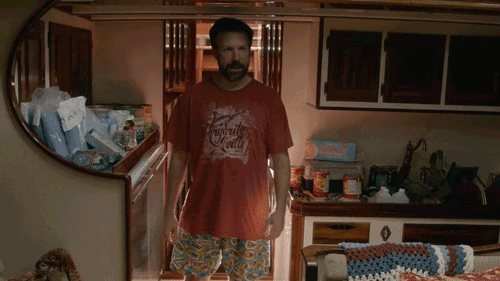 If you can, assuming you're not having to self-isolate, leave the house when you're not working. Go walk the dog, go for a run, go get a coffee or a delicious pastry.
And if you're done with work for the day, shut down and properly transition into home-mode. 😁